Syria
A series of military operations by Syrian Army in Damascus and Homs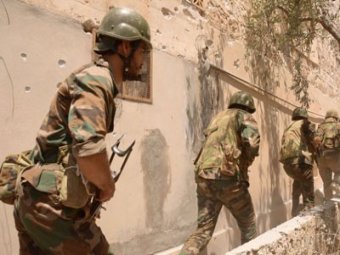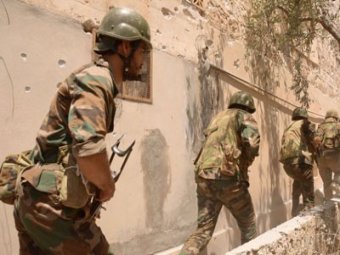 Syrian Arab Army units carried out a qualitative operation in Farms of Ela'ab eastern al-Ghouta al-Sharqia (eastern), what led to the killing and wounding a number of militants.
Our correspondent reported that the army chased elements of Shabab al-Huda Battalions in the same area that led to the killing of is leader, Ammar al-Asfari and several members of his group.
Syrian Army units targeted a group "Free Army" militia in al-Qasimiyah farms and and al-Zamania in al-Ghouta al-Sharqia, while 10 workshops for mortar and improvised explosive devices were destroyed in the industrial area in Duma.
At the western entrance of Harasta, the leader of an armed group has been killed, Muhammad Mahfoud and several of his group members following targeting them by Syrian Arab Army, as headquarter of armed groups has been destroyed were using to plan in Beit Sahem.
Our correspondent says that army units continued to pursue militants in the vicinity of a Talet al-Mistah in Barzeh, and to the south-east of the region, and units chased gunmen south the Building of Teachers and east of the roundabout al-Manasher in Jobar, what led to the injury of the group leader, called Abu Bassam Dalila, as has been the destruction of 3 cars at the tunnel Harmalah to the west of Zamalka.
in Adra al-Balad a unit of Syrian Army targeted an armed group near the Sheep Souk, killing the whole group.
Military operation continues in al-Qusair city of Homs countryside
Syrian Army units continued chasing the armed men in al-Dweir village near al-Dar al-Kabira in al-Qusair city, killing and wounding many gunmen.
a unit of the army destroyed gathering of insurgents and their vehicles in al-Tayba town on the road of Palmyra – al-Sekhneh in Homs countryside, killing 11 of them and injured 30 others.
The destruction of a car bomb was in possession of the insurgents in the vicinity of the central prison of Aleppo
Syrian Arab Army units Destroyed today a car bomb for insurgents were trying to detonate at the fence of the central prison of Aleppo, killing more than 150 militants following the military operations in the vicinity of the prison.