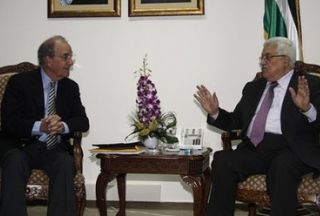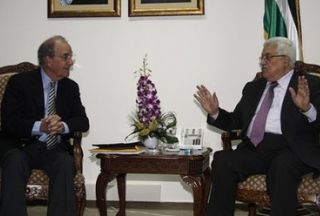 The acting Palestinian Authority chief warns the Middle East peace process will fail unless Israel meets Palestinian demands regarding outstanding issues.
On Thursday, during a two-hour meeting with US envoy to the Middle East George Mitchell in Ramallah, Mahmoud Abbas raised the key issues hampering peace talks with Israel, DPA reported.
Abbas warned that negotiations with Israeli Prime Minister Netanyahu were moving too slowly.
He slammed Israel far failing to reply to the Palestinian requests to clarify its positions on key issues submitted to Mitchell.
The Palestinian side cannot start direct negotiations with Israel unless hurdles hampering the US-mediated peace talks are removed, Abbas said.
"We haven't received even a single sign that might indicate progress on those issues," he added.
Chief Palestinian negotiator Saeb Erekat said Abbas and Mitchell discussed the borders of the future Palestinian state and mutual security arrangements.
"We hope that all this effort will lead to an agreement on marking out the borders based on the 1967 lines," said Erekat.
At the meeting with Mitchell, Abbas also discussed other issues related to demolition of homes in the East Jerusalem (al-Quds) neighborhood of Silwan, the deportation of Hamas lawmakers from their East Jerusalem residences, and the Israeli settlement plans in East Jerusalem and the occupied West Bank.