Syria
ABC Channel Deliberately Distorted the Meaning of the Interview with President al-Assad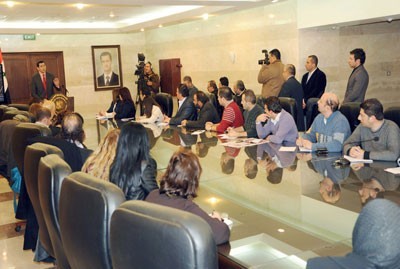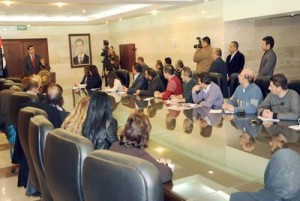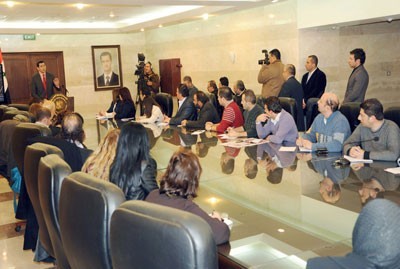 Foreign Affairs and Expatriates Ministry Spokesman Dr. Jihad Makdessi affirmed on Friday that the US channel ABC distorted the meaning of their interview conducted by Barbara Walters with President Bashar al-Assad through editing.
In a press conference, Makdessi said that the channel omitted parts of the interview to manufacture similarities between what the channel broadcast and the statements of the US State Department spokesman Mark Toner before the interview which the Syrian Foreign Ministry corrected earlier.
"We believed that the channel would broadcast the interview in an optimal manner reflecting what President al-Assad said. However, the distortion that took place wasn't surprising… it's every channel's right to perform editing but in a manner that doesn't distort content, especially when it comes to a president of a country and a country such as Syria," he said, noting that they say that Syria doesn't allow the media in, and when Syria does they resort to distortion, stressing that Syria only filters out non-objective material and doesn't band media.
Makdessi said that Toner sought to undermine the interview before it was broadcast by saying that President al-Assad doesn't assume responsibility to strike at the Syrians' integrity and the Syrian army, noting that after the failure to attack Syria through economy, politics, diplomacy and sectarianism, they sought to target the Syrian army by depicting it as operating alone.
Makdessi made a comparison between the interview with President al-Assad and the fragmented bits broadcast by the channel after editing them and distorting their meaning by manipulating three subjects: the Syrian army, distance from reality and irrationality, and the UN.
He pointed that Walters broached the first issue around six or five times, and used loaded questions that cannot be answered with a simple yes or no. For example, she asked "did your armed forces treat protestors with exaggerated brutality" and President al-Assad corrected her by saying that they are not "his" forces but rather armed forces that belong to the government and he doesn't own them.
She retorted by saying that he has to issue orders, and President al-Assad by saying that this is incorrect and that according to constitution and law, this institution is tasked with protecting the people and confronting any chaos or terrorists.
In response to a question on whether some retaliations or killings were carried out without his permission, President al-Assad said that there's a difference between having a policy that stipulates crackdown and mistakes carried out by officials, noting that having such a policy would be like what happened in Guantanamo when a torture policy is used.
President al-Assad said that there was no policy to crack down on or torture people, but rather mistakes were committed – or allegedly committed – by individuals, which is why a committee was formed to investigate what happened.
On punishing people who made mistakes, he said that they would be punished if there is evidenced, but not if there's just rumors and allegations, saying that there's an independent judicial committee tasked with detaining those who are guilty and presenting them to trial.
President al-Assad stressed that there was no crackdown policy, but rather a policy for confronting terrorists, pointing out that the United States doesn't allow gunmen to run free, recalling what happened in Los Angeles in the 1990's when the army was sent to the city to deal with gunmen.
He also asked who killed 1,100 soldiers, saying that those who can't find out who killed the soldiers can't possible know who killed civilians.
In response to a question on whether he believed that the crackdown was overused in the beginning, President al-Assad said that he couldn't say that without evidence and that she was asking him to respond according to rumors and reports, both of which aren't sufficient to him as President, stressing that when people make mistakes and there's tangible evidence of that, then he can say yes or no.
On whether he gave an order to crack down, President al-Assad denied that and said that orders were given to apply constitution and law, and on the use of rifles and arrests, he said that the use of rifles was forbidden and that the forces' policy was prevention using methods such as plastic batons, stressing that any use of automatic firearms was a violation of law and when it happened, the ones responsible were arrested.
In response to a question on whether he sees that there are people fighting for freedom or rather separate events, President al-Assad stressed that there are diverse components and that not all people are fighting for freedom, saying that there are those who want freedom which is why reforms were commenced, saying that he acknowledges the existence of such people.
He noted that most of those who want freedom didn't go out in protests and that no all the people in the streets are protesting from freedom, as there are extremists, outlaws, escaped convicts, drug dealers and people with al-Qaeda mentality.
President al-Assad added that funds are brought from abroad to wage a media and propaganda war, with people being paid off to protest for 15 or 30 minutes so that the media sees protests, adding that there are actual protests and peaceful demonstrations in addition to extremists and terrorists, sometimes in the same place.
On people who were killed and tortured, he pointed out that there have been terrorists since the beginning who killed people, murdering more than 1,100 soldiers and policemen, asking if these were killed by peaceful protests.
In response to a query on whether any peaceful protestors were tortured or killed, President al-Assad said that any barbaric reaction came from individuals and not institutions, stressing that no institution in Syria gave order to respond with brutality, adding that when there's chaos in an area then anyone can make mistakes or even committed a crime.
On what he considers the biggest misconception in the United States about the events in Syria, President al-Assad said that there are many misconceptions and much distortion of facts in the media, stressing that accumulation of distorted facts prevents the formation of a vision, which he said was a general problem for the west in general in regards to the Middle East.
He went on to say that the misconceptions about the Syrian government killing its own people is wrong, and that no government would do so unless it's run by a madman, adding that he became a president through popular support, and that no-one in Syria could possibly give orders to kill.
President al-Assad noted that there are gunmen who kill soldiers and civilians, and that 9 civilians were killed in Homs on the day the interview was recorded, most of them pro-government, while other mistakenly assume that all the dead people are protestors and that every civilian is against the government.
On the UN report that was issued recently, accusing the Syrian government of committing crimes against humanity, President al-Assad responded by calling for sending the "tangible evidence and documents" they possess to verify them, noting that the UN never sent them anything, and that they don't even have the names of people who were raped and tortured.
Regarding the UN relying on the testimonies of 225 people they claim to have interviewed in their accusations, President al-Assad said that they should send the documents, otherwise nothing can be said and something can't be acknowledged just because the UN said it.
President al-Assad said that the UN isn't a credible establishment as it has double standards because of the United States' control over it, adding that the UN didn't carry out any resolution relevant to the Arab world, whether it relates to the Palestinian people or Syrian lands.
He also wondered that if the UN is concerned about human rights, then why don't they consider the suffering of the Palestinians in the occupied lands and the Syrians who left their land which Israel occupied, noting that the UN has no credibility not just in his eyes, but also in the eyes of every citizen and the whole region, adding that the UN has had no credibility since before his generation.
On the presence of a Syrian ambassador in the UN, the President said "this is a game one plays, but this doesn't believe that one believes in it."
In his press conference, Foreign Ministry Spokesman Makdessi said that the way the questions were asked was meant to demonize Syria and depict what President al-Assad was saying in a way that contradicts reality, voicing regret over this deliberate mistake.
He said that the message directed to the UN that is had success stories in some areas and failure stories in others, with most of the failure taking place in the Middle East.
Makdessi stressed that President al-Assad didn't avoid responsibility and affirmed that he's constitutionally responsible for the country, but mistakes happen and they will be accounted to, all of which was ignored by ABC and other channels that began to interpret the interview however they wanted.
He noted that the issue of protests and their nature was broached repeatedly in order to find a suitable statement to take out of context, adding that ABC omitted the reference to al-Qaeda because the word has weight to the American citizens.
Makdessi pointed out that the channel also used images of opposition protests in the interview's background without bothering to show other images to balance them out, and that they also neglected what President al-Assad said about the civilians who were murdered and how they died.
He stressed that the irrational and mad ones are those who drag their armies to futile wars like in Afghanistan and Iraq where more than 6,000 US soldiers died along with many Iraqis, in addition to the Iraqis who displaced.
"Irrationality is spending trillions of US dollars form American taxpayers during an intense economic crisis on an ally in the Middle East who refused a request to suspend settlement activities for only six days," he said.
On the statements of Iraqi Foreign Minister Hoshyar Zebari regarding mediation with Syria, Makdessi said that heard of this statement through the media and that the Ministry didn't receive anything, thanking him for the good intentions in principle.
On President al-Assad stance regarding the violence and Syria's stance towards the UN, Makdessi said that President al-Assad and the Syrian government feel sorrow over the continuing violence, stressing that the President must find solutions to the country's problems that suit Syria itself, not ones that suit neighboring, regional and international forces.
He stressed that President al-Assad promised that there will be accountability and that there are strict instructions to not use live ammo, and that Syria believes that the solution can only be achieved by Syria, adding that the Arabs should help Syria by stopping instigation, the flow of weapons and Thuraya phones, pressure and sanctions, because all of that doesn't help.
Makdessi said that Syria wants others to back its assessment of the situation rather than supporting armed conflicts, affirming readiness to cooperate and voicing faith in finding a dignified way out of this crisis for all sides, adding that Syria wants those abroad to be convinced to believe in dialogue and that there are no taboos.
On Syria dealing with others with good intentions and how to guarantee their own good intentions, Makdessi said that there's no guarantee except actions on the ground, adding that the Arab League Secretary General's response arrived and is being studied.
He stressed that the bet is on the Syrian people and an internal Syria solution, along with betting on external forces to help with good intentions, calming and directing others towards rationality of demands and working with Syria.