Europe
About 650 migrants has been expelled from Calais camps by French police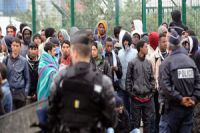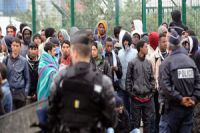 French police have begun expelling hundreds of migrants from three campsites in the northern port city of Calais despite opposition from rights groups.
According to the media reports, police started expelling some 650 migrants from the camps on Wednesday following an announcement by Calais authorities a week earlier.
The authorities said the decision to evict the campsites came on the grounds that the makeshift housing posed problems to public health and safety.
As busloads of riot police arrived and surrounded the makeshift camps, several migrants left voluntarily. Dozens of migrants and activists gathered close to one of the camps, some angrily attempting to prevent the police from clearing the site.
The police raid caused widespread confusion among the migrants, notably at one of the largest campsites housing mainly people from Afghanistan and Syria, as the migrants have nowhere else to go.
Cecile Bossy, from the France-based Doctors of the World NGO, said, "The people are on edge and are looking for the place where they will feel the safest."
Bossy also criticized the police handling of the evictions, describing it as "anything but professional."
Calais is a magnet for migrants from war zones and deeply poor countries who are trying to reach Britain, just across the English Channel.