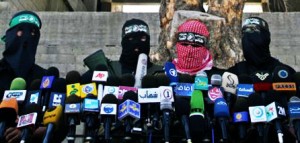 Abu Obeida, the spokesman for Al-Qassam Brigades, the armed wing of Hamas, stated Wednesday that the talk about Zionist entity's success in destroying the military capability of the Brigades is totally groundless, noting that the minor damage it sustained during the war had been fully restored.
Abu Obeida said that Zionist entity, through spreading such lies, aims to polish the image of its routed troops and cover up its military failure in Gaza which was acknowledged by some Zionist entityi leaders following the war.
He added that the allegations of victory made by Zionist entity are also aimed to uplift the damaged spirits of its troops after many of them tried to escape military service.
Regarding the Mossad's claims that Hamas did not achieve its goals in the war, the spokesman highlighted that the Movement of Hamas did not start or wage the war, recalling that Zionist entity was the party that declared its goals before and after the war which was intended for overthrowing the government in Gaza, eliminating the resistance and releasing captive soldier Gilad Shalit, none of which was achieved.
The spokesman also stressed that the Palestinian resistance in the West Bank would return to the battlefield sooner or later despite the dark periods it came through and the strikes it was exposed to by the Zionist occupation and the Palestinian Authority in Ramallah.