Iran
Middle East
AEOI Chief: No More Inspections of Iranian Sites Requested by IAEA
Head of the Atomic Energy Organization of Iran (AEOI) Ali Akbar Salehi said on Saturday that the International Atomic Energy Agency (IAEA) has asked for no more inspection of the country's sites after the two sides agreed on two cases of inspection in August.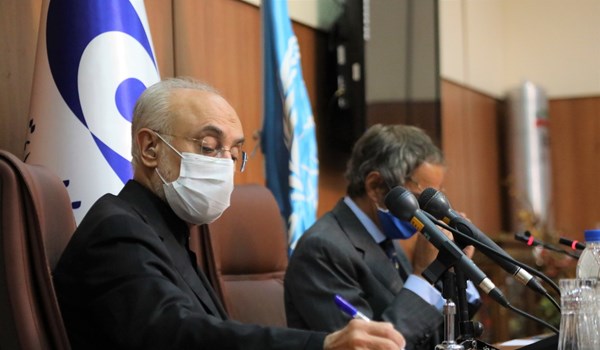 Salehi referred to the first inspection carried out by the IAEA in early September, saying that the next probe will be conducted in due time agreed by the two sides, however, the time of the inspection will not be announced publicly.
In late August, Iran agreed to grant the IAEA access to two sites specified by the UN nuclear agency.
Salehi added that the UN nuclear watchdog has agreed that it will not request any other access or raise any other questions based on its current information.
"The IAEA has a request under its obligations, and we have no problem doing so," he noted.
Salehi underlined Iran's constant adherence to its commitments, and said, "This means the agency's requests must be within the framework of the Safeguards Agreement or the Additional Protocol and must be considered sound, reasonable and justified."
"This is an important principle that the Islamic Republic of Iran adheres to. Iran's cooperation with the International Atomic Energy Agency is defined in this context," he said.
Late in August, Iran permitted the International Atomic Energy Agency (IAEA) to get access to two sites in the country, but meantime, the UN-affiliated nuclear watchdog said it would have no more demands to visit other centers undeclared by Tehran in the present context.
"Iran and the IAEA reached an agreement on the resolution of the safeguards implementation issues specified by the IAEA, in good faith. In this regard, Iran is voluntarily providing the IAEA with access to the two locations specified by the IAEA and facilitating the IAEA verification activities to resolve these issues," a statement issued by the two sides in Tehran said.
"The IAEA verification activities will proceed in accordance with the CSA and the AP, and the IAEA's standard verification practice as implemented for all States with CSAs and APs on equal basis and without discrimination," it added.
"… the IAEA and Iran recognize that these safeguards implementation issues are exclusively related to nuclear material and activities subject to safeguards under the CSA and the AP," the statement reiterated.
"In this present context, based on analysis of available information to the IAEA, the IAEA does not have further questions to Iran and further requests for access to locations other than those declared by Iran under its CSA and AP," the two sides underscored in their final statement.