Iran
AEOI Chief Rejects Western Media Hype on Technical Problems in Bushehr N. Plant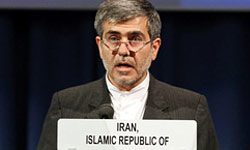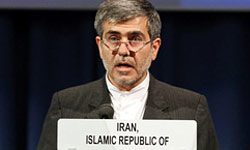 Head of the Atomic Energy Organization of Iran (AEOI) Fereidoun Abbasi categorically denied the western media reports about technical flaws in Bushehr nuclear power plant, saying that everything at Bushehr is proceeding according to the schedule.
"I completely deny this issue and everything is going on as planned and according to the schedule. When the technical tests are completed the primary launch of Bushehr Atomic Plant will begin," Abbasi told reporters in Tehran on Wednesday.
Yesterday, Iranian Foreign Ministry Spokesman Ramin Mehman-Parast also categorically denied western media reports about technical flaws in Bushehr nuclear power plant, saying that such media propaganda aim to spark concerns among regional states about the safety of Iran's nuclear activities.
"These claims are not at all true. Bushehr power plant has been designed at the highest level of safety as the safety of the power plant for our nation is the most important issue to us," Mehman-Parast said.
He further added that such media hype about the Bushehr power plant may be the result of the positions taken by the western countries and masterminded by Israel which seek to cause worry among the regional countries about Iran's nuclear program.
In sarcastic remarks, Mehman-Parast also added that the regional Arab countries would not have started their own civilian nuclear activities if utilizing nuclear facilities had truly created such concerns.
Iranian officials have frequently assured the regional and world states of the high safety standards of the Bushehr power plant and its facilities.
Washington and its Western allies accuse Iran of trying to develop nuclear weapons under the cover of a civilian nuclear program, while they have never presented any corroborative evidence to substantiate their allegations. Iran denies the charges and insists that its nuclear program is for peaceful purposes only.
Tehran stresses that the country has always pursued a civilian path to provide power to the growing number of Iranian population, whose fossil fuel would eventually run dry.
Despite the rules enshrined in the Non-Proliferation Treaty (NPT) entitling every member state, including Iran, to the right of uranium enrichment, Tehran is now under four rounds of UN Security Council (UNSC) sanctions for turning down West's calls to give up its right of uranium enrichment.
Tehran has dismissed West's demands as politically tainted and illogical, stressing that the sanctions and pressures merely consolidate Iranians' national resolve to continue the path.
Tehran has repeatedly said that it considers its nuclear case closed as it has come clean of IAEA's questions and suspicions about its past nuclear activities.