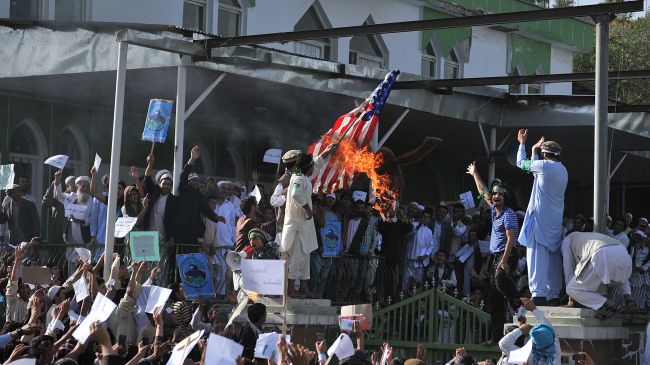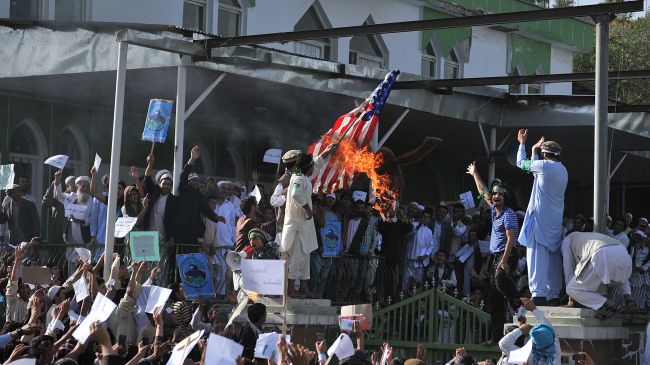 An Afghan cleric has offered $400,000 bounty to anyone who kills the producer of a blasphemous movie made in the United States and a French cartoonist who disrespected Prophet Muhammad (PBUH).
"I have offered $300,000 to anyone who kills the anti-Islam film producer and $100,000 for killing the French cartoonist," Mir Faroq Husaini, a prominent cleric in the western province of Herat, told AFP on Sunday.
"I will sell all my properties, including my lands in Herat, to collect the money," he added.
Outrage has grown globally over the blasphemous movie followed by the sacrilegious cartoons of Prophet Muhammad (PBUH) published by French weekly Charlie Hebdo on September 19 in yet another proof of the West's Islamophobia campaign.
Anti-US demonstrations, which began on September 11 over the blasphemous movie made in the US state of California, continued this week, with protesters chanting slogans against Washington, marching on US embassies, and torching US flags in several Asian cities.
Protesters demand that Washington apologize to the Muslim world over the film. They also call for the punishment of those behind the film.
Muslims in Iran, Turkey, Sudan, Egypt, Yemen, Tunisia, Bangladesh, Malaysia, Indonesia, Pakistan, Afghanistan, India, Sri Lanka, Thailand, Iraq, Morocco, Syria, Lebanon, Kuwait, Nigeria, Kenya, Mali, Nigeria, Australia, Britain, the United States, France, Belgium, and several other countries have held many demonstrations to condemn the blasphemous movie over the past weeks. Protests were also held in Kashmir and the Gaza Strip.