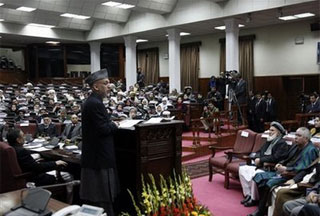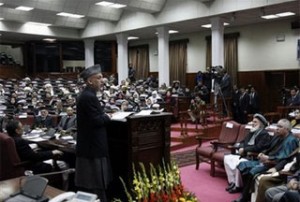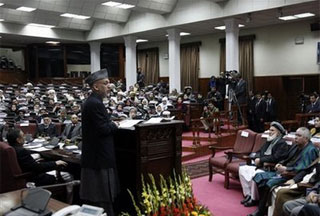 Afghan President Hamid Karzai has once again criticized foreign troops for killing civilians in the new US-led operations against militants.
"We need to reach the point where there are no civilian casualties," Karzai told lawmakers during the opening session of the parliament following a-month-long break.
"Our effort and our criticism will continue until we reach that goal," he said.
The Afghan president held up a picture of an 8-year-old girl whose entire family was killed during the offensive in the southern town of Marjah.
"If a little girl is to collect the dead bodies of family members, you can guess in what situation we are in now," Karzai noted.
NATO reported earlier that its troops killed yet another civilian, claiming that the Afghan civilian was shot dead by mistake.
The alliance says that 16 civilians have been killed since the massive operation started a week ago.
Ahead of the offensive, the Afghan government had cautioned the foreign troops against causing civilian casualties.
Many Afghan civilians have been killed both by violent militant acts, including bombings and daily fighting, as well as by US military operations in the country.
Meanwhile, Karzai urged Taliban militants once again to put down their guns and join the Afghan government.
"I once again call on Taliban … to come back and take part in peace, reconstruction and developments of their country," he said.
However, the Taliban has so far rejected the offer, arguing that Karzai's peace offer was prompted by the militants' spreading influence.
NATO has said in a statement that the goal of the US-led offensive is to coerce Taliban into joining the Afghan government.