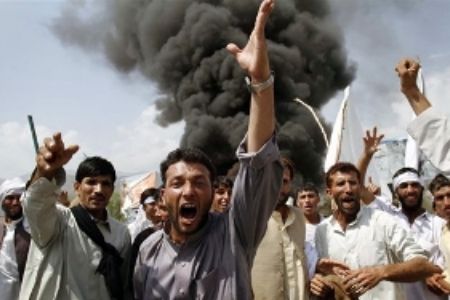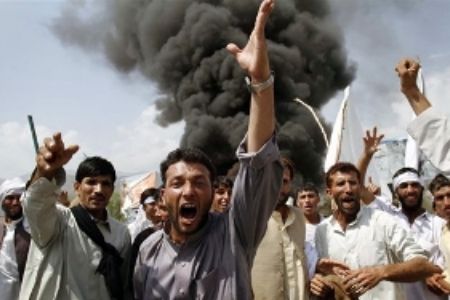 Thousand of Afghans have taken to the streets of Afghanistan for a second day to protest at a Florida-based church's plan to burn the holy Quran.
On Saturday, protesters poured into the streets of northeastern Badakhshan Province, where a day earlier, one protestor was shot dead outside a NATO base.
"Demonstrators have come in their thousands to protest the Quran burning," a police official was quoted by Reuters as saying.
Earlier in the day, Afghan protesters staged a rally in the northern city of Mazar-i-Sharif to denounce the plan, calling on human rights organizations to prosecute the Florida church officials.
Terry Jones, pastor of Dove World Outreach Center in Gainesville, Florida, promoted a plan to burn copies of the Quran on the ninth anniversary of the September 11, 2001 attacks on New York and Washington.
The plan infuriated Muslims around the world and promted international condemnation. It has triggered protests in India, Indonesia, Iran and Pakistan.
Iranian Foreign Minister Manouchehr Mottaki condemned the plans on Thursday and warned that followers of other religions would join the Muslim community and react to the move.
US Secretary of State Hillary Clinton has hit out at the Dove World Outreach Center's plan, stressing that it is "disrespectful and disgraceful."
The US State Department also called the move "un-American," while the US Attorney General Eric Holder called the idea "idiotic and dangerous."
EU Foreign Affairs Chief Catherine Ashton condemned the scheme, while Arab League chief Amr Moussa dubbed Jones a "fanatic."
The Vatican council has blasted the Florida church's scheme as an "outrageous and grave gesture against a book considered sacred by a religious community."
Earlier on Friday, angry demonstrators marched in Tehran to condemn the Islamophobic decision.
Following the fierce International condemnation of the plan, Jones, a radical evangelist, announced on Thursday that he had put his Quran burning plan on hold.