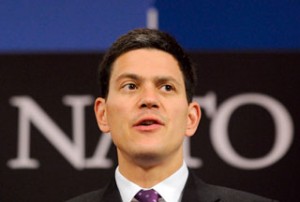 The UK foreign secretary says the presence of the country's military in Afghanistan is in Britain's national interest, while in opinion polls a majority of Britons favor a pull-out.
"This mission is in Britain's national security interest," Foreign Secretary David Miliband told the American PBS television on Tuesday.
His comments come only hours after a new poll, published by The Independent revealed that the majority of Britons have lost their confidence in the UK's involvement in the Afghan war, urging the troops' immediate withdrawal.
Fifty-two percent of those surveyed favored a complete pullout. Furthermore, fifty-eight percent of the participants were in the opinion that victory against Taliban cannot be achieved through military operations.
Miliband however, turned a blind eye to the nationwide demand, stressing that the 42-member international military coalition must remain in Afghanistan until Afghan security forces can take over.
The top British diplomat also declined to rule out the possibility of Britain contributing more troops beyond the 9,000 it currently deploys in Afghanistan — a contingent second only to the US military presence there.
He also added that Britons must understand that the war in Afghanistan is complemented by a "political strategy."
"After all, nearly three-quarters of the terrorist plots that have been either taken place or foiled against the UK have their links into the badlands between Afghanistan and Pakistan," Miliband claimed.
Miliband's remarks come just as July — the bloodiest month for British forces in Afghanistan since the mission began in October 2001 — closes to an end.
To date, 22 soldiers have died in this month alone, including a high-ranking army officer.
However, the main victims in the war-ravaged country are Afghan civilians who are killed by both insurgents' attacks including bomb blasts and by the coalition forces' counterinsurgent activities including indiscriminate and imprecise bombing of suspected militant hideouts.