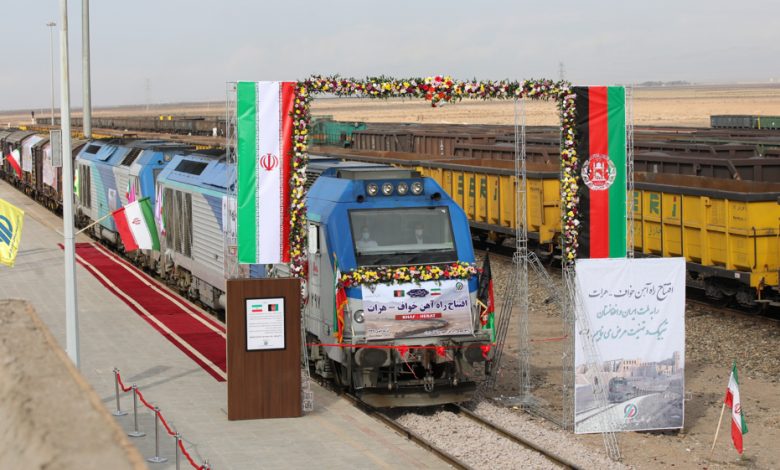 Afghanistan says it will launch its first passenger train to Iran this year, following on a landmark rail service which opened between the two neighbors last month.
The Central Asian country currently lacks a passenger rail service, but the new rail link from Herat to Khaf in Iran is being completed for both cargo and passengers.
"The contract for the first passenger train with a daily capacity of 1,100 tonnes to Iran and 1,300 tonnes for return has been finalized and the service will start operating at the earliest opportunity," acting minister of transport and head of Afghan railway authority Mohammed Yama Shams said on Monday.
Afghanistan has still to complete the remaining 85 km section of the Khaf-Herat railway line which was inaugurated as far as Rahzanak in its territory in December.
Officials say work is in progress on the line, which ends at Herat International Airport, the fourth major airport in Afghanistan.
About 2.5 million Afghan migrants reportedly live either legally or without documents in Iran.
The 225 km long railway to Iran has long been touted as the sole viable option to build Afghanistan's economy, connecting Herat to Mashhad in Iran and on to Turkey.
Last week, Iran and Turkey also signed three documents to expand transnational rail services linking them to Afghanistan as well as Pakistan and China.
The Khaf-Herat railway is hoped to open a new chapter in domestic freight and passenger transportation and reduce the cost of moving goods across the region to a fraction of that of highway transport.
It will stretch to Chabahar in southeast Iran, boosting landlocked Afghanistan's trade and bringing in its mining sector from the cold to exploit billions of dollars in untapped mineral reserves.
Minister of Roads and Urban Development Mohammad Eslami said this month Iran had proposed to extend the Khaf-Herat railway to Mazar-i-Sharif, Kabul and other cities.
"We hope the Khaf-Herat railway will be connected to Mazar-i-Sharif. However, we have explained to Afghanistan the conditions under which the project can be implemented with a strong organization and then extended to Kandahar, Kabul and the southern and eastern borders of Afghanistan," he told a group of railway trainees from Afghanistan in Tehran.
Afghanistan has almost no functioning railways, where there is less than 25 km of track in the entire country.
Iran has spent millions of dollars on development and reconstruction projects in Afghanistan. It has built dams and hundreds of kilometers of highway, and railroad over the last eight years, paving the ancient trade routes of the Silk Road.