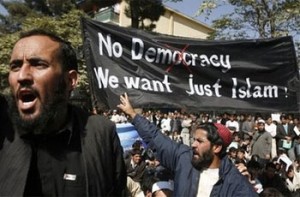 Hundreds of Afghans have held anti-US and anti-government demonstrations against a recent US-led attack which reportedly claimed the lives of 15 non-combatants.
The civilians were killed on Monday after US soldiers stormed a house on the outskirts of the provincial capital Mehtar Lam of the eastern province of Laghman, witnesses told a Press TV correspondent.
Speaking to our reporter in the aftermath of the attack on Mehtar Lam's Armal neighborhood, the locals confirmed the number of the casualties which, they said, included women, children and an Afghan reporter.
The protesters stormed the streets the next morning, holding the bodies overhead. In scuffles with Afghan security forces, four protesters died, Reuters reported.
The US-led International Security Assistance Force said the victims of the Monday raid were all Taliban militants. Afghan leader Hamid Karzai, meanwhile, condemned the attack which, his office said, killed six civilians.
US forces comprise the majority of the foreign soldiers operating in the eastern province.
The forces have also launched land and air assaults on the southern Afghan province of Helmand. The International Committee of the Red Cross (ICRC) says civilian casualties in southern Afghanistan have risen by 20 percent this year. The rise, the committee said, was consonant with the increase in the number of foreign forces there.
The ICRC has warned of more casualties as the US plans to commit 30,000 more forces to the mission in Afghanistan while the NATO plans to reinforce the surge by 7,000 additional troops.
The war-stricken country is currently struggling with unprecedented violence despite the presence of around 110,000, mostly American, foreign soldiers.