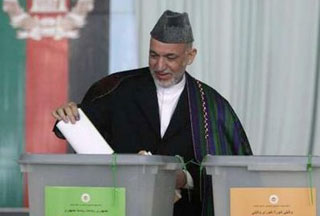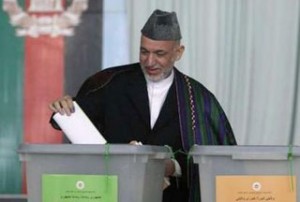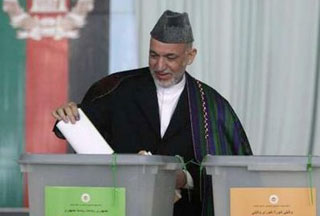 Polls have opened for presidential elections in Afghanistan in the face of continued threats by Taliban militants who have vowed to disrupt the vote.
Polling stations opened at 7:00 am (0230 GMT) on Thursday under stepped-up security, particularly in the capital Kabul, where many checkpoints have been established to frisk drivers and passengers.
Around 17 million registered Afghans are eligible to cast their ballots in some 6,700 polling centers planned to open across the country.
Casting his vote half an hour after polls opened, President Hamid Karzai appealed to his fellow countrymen "to come out and cast their vote to decide their future."
The election is the second ever presidential polls and the third ever vote held in the violence-wracked country since the US-led invasion and subsequently the ouster of a two-year Taliban rule in 2001.
Karzai is also one of the forerunners in the tense election and is tipped to win a second term after nearly eight years in power since the 2001 invasion.
The militants have threatened to smother the elections by launching attacks on polling stations and have called on Afghan civilians to boycott the vote.
The threats prompted Afghan authorities and NATO officials to put on alert some 300,000 security forces and a total of 100,000 international troops nationwide.
A further 200,000 Afghan troops, intelligence agents and policemen — thousands recruited just for the elections — will join the long-planned security operation.
The event will prove a massive test for the Afghan police and army to safeguard the provincial and presidential elections and prevent the Taliban from unleashing a threatened onslaught.
On Thursday, some 3,196 candidates, including 328 women, will also compete for 420 seats on councils in the country's 34 provinces.