Palestine
AFP office in Gaza hit in Israeli airstrike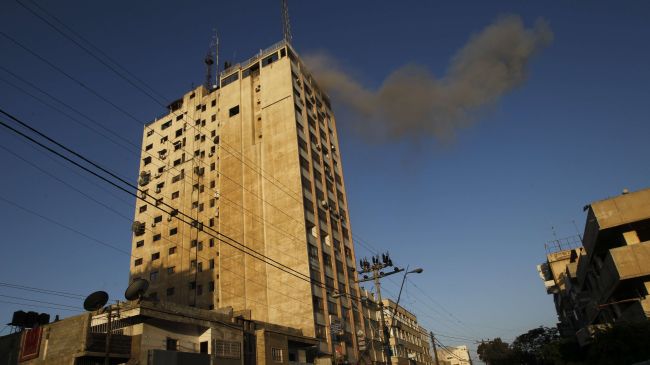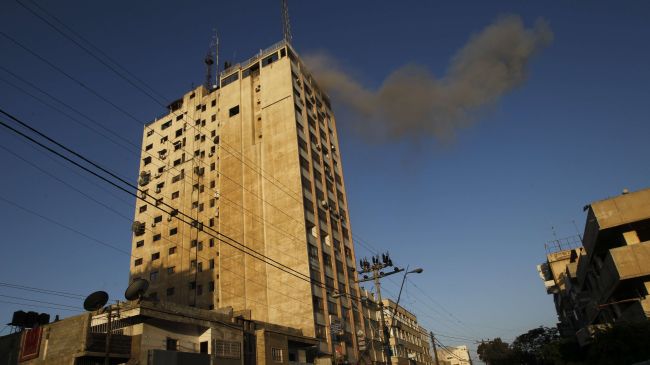 The office of Agence France-Presse in the Gaza Strip has been hit in an Israeli airstrike on the besieged Palestinian territory.
An unnamed AFP photographer said he was in the fourth floor of the building, when three rockets struck the sixth floor on Tuesday night.
Israeli airstrikes on the Gaza Strip killed three Palestinian journalists in their cars on Tuesday.
Two of those killed were cameramen working for Al-Aqsa TV. Mohammed Thouraya, head of the station, said the two were driving in a car with press markings in Gaza City on Tuesday afternoon, shortly after wrapping up an assignment at the city's al-Shifa Hospital.
Thouraya added that the bodies of the two, Mohammed al-Koumi and Hussam Salam, were badly burned.
The Moscow-based Russia Today news station reported on November 18 that its office on the top floor of the Showa Media Center in Gaza City "was destroyed after (an) Israeli airstrike hit the building."
The attack occurred after the office of Iran's English-language channel, Press TV, in Gaza was hit twice earlier in the day.
During the bombings, a Press TV cameraman sustained injuries.
Medical officials in Gaza said 21 Palestinians were killed on Tuesday. An Israeli soldier and a civilian died when rockets exploded near the Gaza frontier.
Gaza medical officials say more than 140 people have died in Israeli strikes, mostly civilians.
In all, five Israelis have died, including three civilians, who were killed last week.
The Israeli military has reportedly struck more than 1,350 targets in Gaza since the offensive began on November 14.
In response, Palestinian resistance fighters have fired retaliatory rockets and missiles into the Israeli-occupied lands, 640 rockets have hit Israel while more than 300 others have been intercepted.
The Israeli military frequently carries out airstrikes and other attacks on the Gaza Strip, saying the actions are being conducted for defensive purposes. However, in violation of international law, disproportionate force is always used and civilians are often killed or injured.
Gaza has been blockaded by the Israeli regime since 2007, a situation that has caused a decline in the standard of living, unprecedented levels of unemployment, and unrelenting poverty