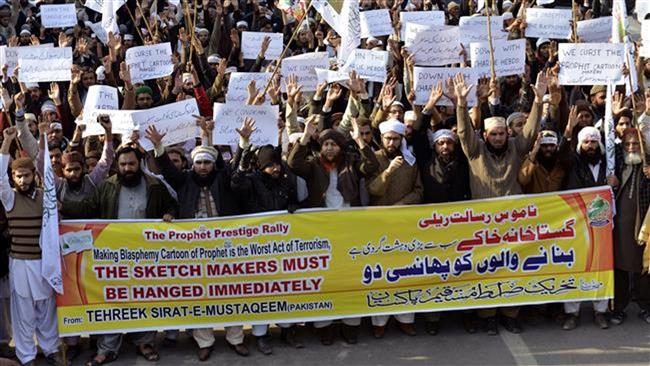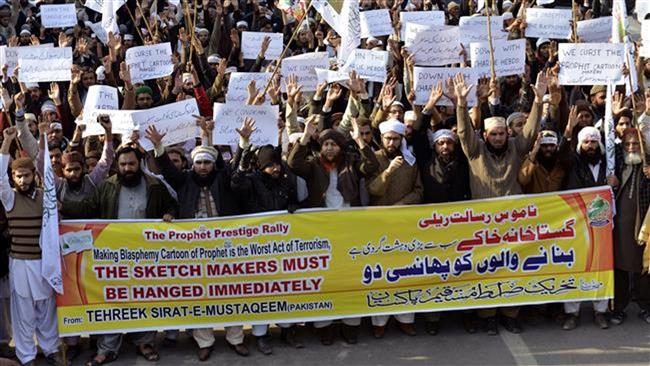 A photographer working for the international news agency Agence France-Presse (AFP) has been shot and seriously wounded during a protest against French satirical newspaper Charlie Hebdo in the Pakistani city of Karachi.
Asif Hassan sustained serious injuries while he was covering the protest rally by activists from the student wing of the Jamaat-e-Islami religious party outside the French consulate in the city on Friday, AFP reported.
"There were around 350 protesters who wanted to go to the French consulate and when the police tried to stop them they started firing at the police," Abdul Khaliq Sheikh, a senior Pakistani police official, told AFP.
According to AFP, Hassan was caught in the crossfire between police and the students.
The photographer was subsequently taken to Karachi's Jinnah Hospital for treatment.
"The bullet struck his lung, and passed through his chest. He is out of immediate danger and he has spoken to his colleagues," Doctor Seemi Jamali, a spokeswoman for Jinnah Hospital, said.
Hafiz Bilal Ramzan, the head of Islami Jamiat-e-Talaba Karachi, lashed out at police for the "indiscriminate" firing.
"Police are responsible for those wounded during the protest including Asif Hasan," Ramzan said.
On Wednesday, French magazine Charlie Hebdo once again published a cartoon depicting Prophet Mohammad on the cover of its new edition. Muslims consider depicting Prophet Mohammed as blasphemous and have condemned the publication of the blasphemous cartoon depicting Prophet Mohammad.
Millions of copies of the new edition of the satirical magazine were sold. The magazine routinely sold 60,000 copies a week before a January 7 attack on its Paris offices, during which 12 people were killed.
The incident was followed by a series of other sieges and shootings across Paris, resulting in the killing of more people and an extensive sense of insecurity in France.
Charlie Hebdo is infamous for insulting Islamic sanctities, repeatedly provoking Muslim anger by publishing sacrilegious cartoons of Prophet Mohammad.
The al-Qaeda branch in Yemen on Wednesday claimed full responsibility for the attack on Charlie Hebdo. The group said it chose and supported Said and Cherif Kouachi, the two brothers who allegedly carried out the deadly assault.