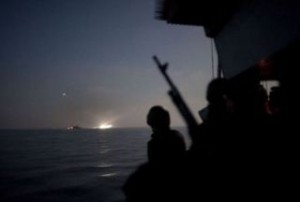 Amidst international fury over the Israeli raid on a Gaza-bound aid convoy, the African Union (AU) condemns the attack and demands an investigation.
"The AU commission is deeply shocked by the bloody boarding operation carried out by the Israeli security forces on May 31, 2010 against a humanitarian mission destined for Palestine, causing a large number of deaths and injuries," the African Union announced in its statement.
In international waters off Cyprus, Israeli naval forces intercepted the Freedom Flotilla aid convoy en route to the Gaza Strip early Monday and swung aboard the six-ship convoy from helicopters, killing at least 20 on board and injuring 50 others.
"This operation launched against a peaceful convoy amounts to a grave violation of international norms and signals Israel's clear intention to maintain its stranglehold on the Palestinian territories, ignoring the international community's relevant decisions," the statement added.
The AU commission "firmly condemns this unjustifiable and deliberate act and demands an investigation be conducted to establish who is responsible."
The European Union has also called for an inquiry into the attack and urged Israel to allow the free flow of humanitarian aid to the Gaza Strip.