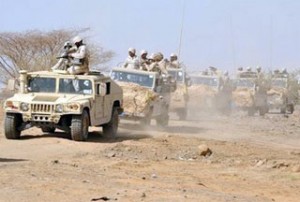 After suffering a humiliating defeat in their last assault, Saudi forces have launched another major ground and aerial attack along Yemeni border in north, Houthi fighters say.
The Saudis are using "all types of ground and air weapons," including tanks, artillery, rocket launchers, Apache helicopters and jet fighters, a Houthi statement said Monday.
Witnesses from the northern border town of Razah confirmed that Saudi forces began a major offensive on Monday, AFP reported.
"The Saudi army launched a vast offensive against Houthi positions in the border region," a witness said.
Yemen, however, has denied the report.
"These are allegations and lies that they often repeat to expand the scope of the conflict, and also to give themselves more importance than they really have," AFP quoted a Yemeni official as saying.
In an earlier statement, the Houthis had accused Riyadh of bombing northern Yemeni villages overnight.
"The (Saudi) air force began bomb and missile attacks on various villages in the Malahidh, Shedah, Hidan and Razah areas" of northwest Yemen, said the statement.
The attack was led by "around 50 Hummers" supported by helicopters and fighter jets, but their raids were repelled and "the aggressors suffered heavy losses," the statement added.
The Saudis, who have launched their offensive on Yemen on November 4, say they will continue the air strikes and shelling until the fighters withdraw dozens of kilometers from the Saudi-Yemeni border.
The offensive has so far left thousands of civilians displaced and scores of others killed.