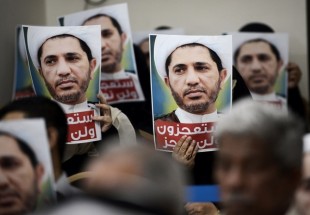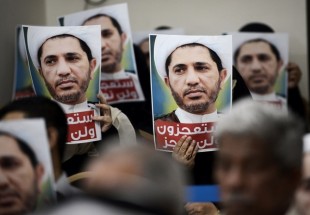 Major Iranian religious form has issued a statement condemning the life imprisonment decree issued for senior Bahraini cleric and denounced Manama for its intimidation policy towards Bahraini people.
Following the announcement of final verdict for prominent Shia cleric, Sheikh Ali Salman Iran's Ahlul Bayt (AS) has released statement denouncing Manama for issuing life jail term for Shia leader Hujjat-ul-Islam Shiekh Ali Salman by Al Kalifa regime, reported Taqrib News Agency (TNA).
Part of the message has rejected the verdicts issued for the Shia cleric and two former Parliament members as 'illegal measures' which have revealed the despotic nature of Al Kalifa regime stressing that Manama is in pursuit of intimidating and downgrading Bahraini nation.
"To issue these decrees at present is meant to pave the grounds for a trip to be taken by Israeli Prime Minister Benjamin Netanyahu to Manama and intimidating Bahraini nation to express their anti-Israli views" reads another part of the message.
Iran's Ahlul Bayt (AS) World Forum has called political and international law organizations, national and Islamic forces, particularly scholars and elites to stand against oppressive and illegal policies of Al Kalifa despotic regime and call for release of political prisoners in a bid to return their civil and political rights.
Bahrain's Appeal Court on Sunday overturned the acquittal of opposition leader Sheikh Ali Salman and sentenced him to life in prison. The ruling against Sheikh Salman came after the appeal court overturned a previous verdict that acquitted him of the charge. And criticisms have already started to emerge against what many see as a systematic crackdown on voices of dissent by the ruling Al-Khalifah regime. The case against Sheikh Salman has also once again brought into the spotlight the role that Saudi Arabia plays in Bahrain's crackdown on the opposition.