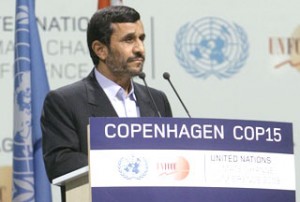 Iran's president says it is hard for powers to make changes in the battle against climate change, because the global economic structure revolves around profit.
"Because the economic and political structures that some have made up are based on maximum profit and cheap energy, it is difficult for them to make changes," Mahmoud Ahmadinejad told Press TV's correspondent in Copenhagen on Friday.
"They will have to give up their interests to make those changes or they will have to make new investments," he added.
In an indirect reference to the US, its Western allies and the military campaigns they have waged in the region, Ahmadinejad said "those who start wars for their interests" can not easily reach deals in one meeting.
However, he said that the climate summit could not be called unsuccessful because it was a "step forward."
Ahmadinejad, who was in the Danish capital to take part in the Copenhagen Climate Change Summit, also expressed hope that all countries would eventually make a contribution.
After years of apparent attempts to reach a deal on combating global warming, representatives from various countries around the world finally managed to seal an agreement on Friday.
Analysts believe that the agreement is not sufficient to combat the threat of climate change, as it is not-binding and countries have serious reservations about some part of the package.
Third world countries present at the Copenhagen summit have also spoken out against the deal, calling the process 'fairly undemocratic.'
Lumumba Stanislas Dia-Ping of Sudan, who heads the G-77 group representing 130 countries in the Copenhagen summit, said the deal put forth by Washington is the worst of its kind as it will lock developing countries and poor people into a cycle of poverty forever.