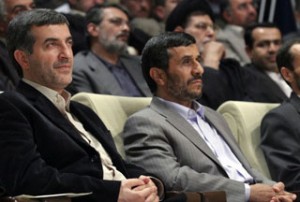 Iranian President Mahmoud Ahmadinejad has formally appointed his close ally and confidant Esfandiar Rahim-Mashaei as the Head of the Presidential Office.
In the presidential decree on Saturday, Ahmadinejad reconfirmed his trust in Mashaei, who will keep his position as the president's chief of staff, reported Fars News Agency.
Ahmadinejad also thanked the outgoing Ali Saeedlu for his services while holding the post during the president's first term in office.
Mashaei, whose daughter is married to Ahmadinejad's son, is a controversial figure in Iranian circles.
On August 20, the Supreme Audit Court of Iran convicted Mashaei of a series of misconducts, sentencing him to two months suspension from his government post, according to a report in the Jomhouri Eslami daily.
The paper also said that the administration of President Ahmadinejad was trying to reverse the ruling.
Mashaei is also known for his controversial remarks last year about friendship between the Iranian people and Israelis.
President Ahmadinejad, following his reelection on June 12, named Mashaei as his new first vice president. However, the assignment was reversed following an official decree by the Leader of the Islamic Revolution, Ayatollah Seyyed Ali Khamenei.