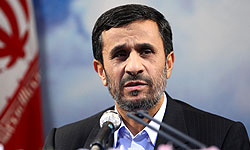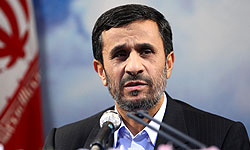 Iranian President Mahmoud Ahmadinejad has advised Muslim countries to not play on the field prepared by the enemy.
Ahmadinejad made the remarks during a speech at an emergency Islamic summit in Mecca on Wednesday, which was held to discuss the latest developments in Muslim countries, particularly in Syria.
The two-day summit opened on Tuesday.
The Iranian president stated, "Today, all of us have entered into a plan without realizing it, a plan that has been devised by the enemy. We are showing hostility toward each other without any clear reason and perhaps based on false information and under various personal, ethnic, historical, and even religious pretexts. And, as it is obvious, we have been providing the enemy the best opportunities for free, and material, media, and military resources are being used against each other, and media warfare has reached its climax."
In the current circumstances, the enemy has found an opportunity to prevent Muslim countries from utilizing their potential in the regional and international arenas and to rob Muslim countries of the opportunity to make progress, Ahmadinejad noted.
"My question is: Who is killing who in our region? Who have aligned themselves against who in Afghanistan, Iraq, Syria, Sudan, Bahrain, Yemen, Libya, and other countries?"
He added that if Muslim countries acknowledge that they are in the same boat and that the threat posed to them by the Zionist regime and its masters is serious, they should join hands to help resolve the problems and hold "free" and "fair" elections and establish a united front against common enemies.
Muslim countries should carry out reforms in cooperation with each other and drive the enemy out of the region, and if vigilance is not exercised, the enemies and the Zionists will establish domination over the region, Ahmadinejad stated.
He also said that efforts should be made to prevent the Palestinian issue from slipping into oblivion.