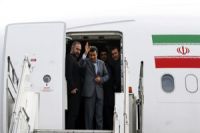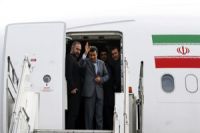 Iran's President Mahmoud Ahmadinejad has arrived in the Venezuelan capital, Caracas, to take part in the funeral ceremony of Venezuela's late leader Hugo Chavez.
According to Press TV, the Iranian president is accompanied by his top adviser Esfandiar Rahim Mashaei, Iranian Foreign Minister Ali Akbar Salehi, Vice President for Executive Affairs Seyyed Hassan Mousavi, Vice President for Parliamentary Affairs Mohammad-Reza Mir-Tajeddini and acting Minister of Cooperatives, Labor and Social Welfare Asadollah Abbasi.
In his message of condolence to the Venezuelan government on Wednesday, Ahmadinejad called Chavez a "martyr who lost his life in the path of serving the Venezuelan people and preserving human and revolutionary values."
The Iranian government also declared one day of national mourning for the death of the late Venezuelan leader.
Heads of state from some 55 countries are scheduled to take part in Chavez's funeral.
More than two million mourners have already filed past Chavez's body at a military academy in Caracas, where he is lying in state.
Venezuelan Vice President Nicolas Maduro, who is due to be sworn in as acting president on Friday, has declared seven additional days of mourning.