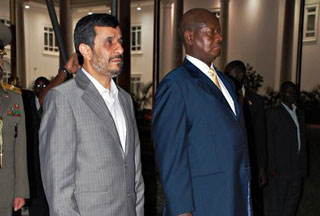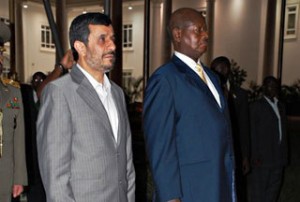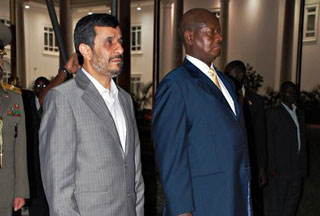 Iranian President Mahmoud Ahmadinejad has arrived in the Ugandan capital Kampala for a two-day official visit.
He was officially welcomed by Ugandan President Yoweri Museveni at the presidential palace on Friday evening.
During the meeting, Ahmadinejad said all nations are entitled to nuclear energy meant for peaceful purposes and no one is allowed to deprive them of this inalienable right.
He went on to say that Iran is working for total nuclear disarmament, the IRNA news agency reported.
And those countries that stockpile nuclear weapons and threaten other nations with them should be the first to disarm, the Iranian president noted.
The Ugandan president said Iran's nuclear energy program is in compliance with international treaties.
On Thursday and Friday, Ahmadinejad was in Zimbabwe, and the two nations signed eleven agreements.
During the visit, Zimbabwean President Robert Mugabe said Harare supports Iran's right to have a civilian nuclear energy program.