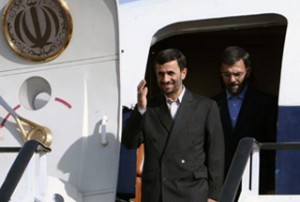 Iranian President Mahmoud Ahmadinejad has arrived in Zimbabwean capital Harare on the first leg of his Africa trip which will also take him to Uganda.
Ahmadinejad, who is heading a high-ranking delegation, was officially welcomed by his Zimbabwean counterpart Robert Mugabe.
The two presidents will sign on Thursday a raft of trade and cooperation agreements, Zimbabwe's Foreign Affairs Minister Simbarashe Mumbengegwi said late Wednesday during a Zimbabwe-Iran joint commission meeting.
"The joint commission agreed to establish a joint investment company to identify and implement projects of mutual benefit to the two countries including in the areas of banking, finance and insurance," said a communique issued after the meeting.
Before his departure at the Mehrabad International Airport, the Iranian president told reporters that the visit comes as part of his administration's plan to consolidate ties with African countries.
He said that he is to inaugurate a production line of tractors in Zimbabwe as well as attending the country's International Trade Fair in Bulawayo.
Ahmadinejad will hold talks with Mugabe on political and economic cooperation as well as regional and international issues.
Officials in Zimbabwean Prime Minister Morgan Tsvangirai's office said he would be absent during Ahmadinejad's visit as he "has previous engagements in the region," according to DPA news agency.
The Iranian president will then leave for Uganda, where he will meet with his counterpart Yoweri Museveni and other officials to discuss various issues including "joint economic ventures" and "mining activities."
Foreign Minister Manouchehr Mottaki, senior aide Mojtaba Samareh Hashemi and the head of the presidential office Esfandiar Rahim-Mashaei will also accompany the president on his African tour.