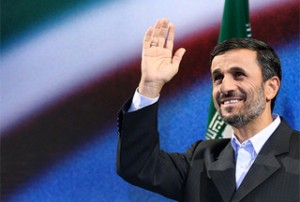 Iranian President Mahmoud Ahmadinejad has arrived in the Tajik capital on the first leg of a regional tour that will also take him to Turkmenistan.
Ahmadinejad, heading a high-ranking politico-economic delegation, was officially welcomed by his Tajik counterpart Emamali Rakhmon on Monday.
The two presidents plan to hold talks on ways to enhance bilateral cooperation in fields including trade, judiciary, mines and geology, cultural heritage and tourism.
Presidents of Iran and Tajikistan will issue a joint statement.
On Tuesday, Ahmadinejad will then fly to Turkmenistan where he will jointly inaugurate a second gas export pipeline to Iran with Turkmen President Gurbanguly Berdymukhamedov.
Iranian and Turkmen officials are to discuss Iran-Turkmenistan-Kazakhstan railway, promotion of trade ties, transportation and energy.
On his three-day visit, Ahmadinejad is accompanied by Foreign Minister Manouchehr Mottaki, Oil Minister Massoud Mir-Kazemi, Minister of Road and Transportation Hamid Behbahani and two lawmakers.