Iran
Ahmadinejad Blames Capitalist System for Economic Problems in Region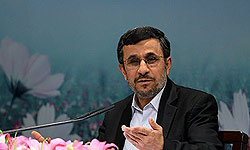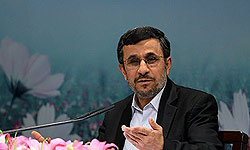 Iranian President Mahmoud Ahmadinejad said the economic problems facing the capitalist countries have spilled over into the other countries and troubled them as well.
"The current situation of the world and specially the crisis of the capitalist system has increased the necessity for mutual cooperation," Ahmadinejad said before leaving Tehran for Baku to participate in the 12th summit of the Economic Cooperation Organization (ECO) in Azerbaijan on Monday.
"Many challenges facing the regional countries today have been created due to the impacts of the problems of the capitalist states," he added.
The Iranian president is due to attend the ECO summit in Baku and will then leave Azerbaijan for Kuwait where he will attend the first summit of the Asia Cooperation Dialogue (ACD). He will return home on Wednesday.
ECO is an intergovernmental regional organization established in 1985 by Iran, Pakistan and Turkey with the aim of promoting economic, technical and cultural cooperation among member states. The organization was expanded in 1992 to include seven new members, namely Afghanistan, Azerbaijan, Kazakhstan, Kyrgyzstan, Tajikistan, Turkmenistan and Uzbekistan.
Ahmadinejad also stressed that the regional organizations like ECO and the ACD have not been created to limit the members' relations with the other world countries, and said, "Our emphasis is not on cutting relations with others but it falls on efforts to prevent the spread of the capitalist system's economic problems (to ECO and ACD states)."
The ACD was formed in June 2002 in Cha-Am, Thailand, where 18 Asian Foreign Ministers met together for the first time. The ACD is a continent-wide forum, the first of its kind in Asia. More specifically, the ACD aims to constitute the missing link in Asia by incorporating every Asian country and building an Asian Community without duplicating other organizations or creating a bloc against others.
A key principle is to consolidate Asian strengths and fortify Asia's competitiveness by maximizing the diversity and rich resources evident in Asia.