Iran
Ahmadinejad Calls for Expansion of Ties with Ghana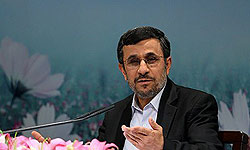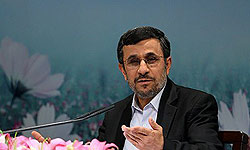 Iranian President Mahmoud Ahmadinejad in a meeting with Ghana's Ambassador to Tehran Bava Gilbert Emblava voiced his satisfaction with the level of mutual cooperation between the two countries, and called for further broadening of bilateral ties.
During the meeting here in Tehran on Wednesday, the Iranian president said, "The Iranian nation is interested in enhancing relations with the Ghanaian nation."
Ahmadinejad underlined the need for bolstering and reinvigorating bilateral ties between Iran and Ghana, and described "Tehran-Accra ties as good and constructive".
The Ghanaian ambassador to Tehran, for his part, said that "Ghana is determined to enhance cooperation with the Islamic Republic of Iran".
Emblava also called on the two nations to stand by each other to meet their interests.
Earlier this year, Iranian Foreign Minister Ali Akbar Salehi and Ghanaian President John Dramani Mahama in a meeting explored avenues for the further bolstering of bilateral ties between the two countries.
During the meeting in the Ghanaian capital of Accra in January, Salehi voiced Iran's readiness to share its experiences with the African state in such areas as agriculture, science, technology, healthcare and pharmaceuticals.
Salehi stated Iran and Ghana hold similar views on international affairs, and expressed satisfaction with the level of cooperation between the two countries.
The Ghanaian president, for his part, expressed hope that the two countries would upgrade their cooperation when their business councils meet in mid-2013.
Referring to five agreements signed between the two countries in the economic, education, scientific, healthcare, and agricultural fields, he appreciated Iranian Red Crescent Society and Ministry of Agriculture for their services to his country's impoverished areas.
Tehran has prioritized promotion of its economic and political ties with the African states and the country is now considered as one of the African Union's strategic partners.
Tehran's efforts to boost ties and cooperation with Africa have led to its acceptance as an observing member of the African Union (AU), where it has shown an active presence in the AU summit meetings.