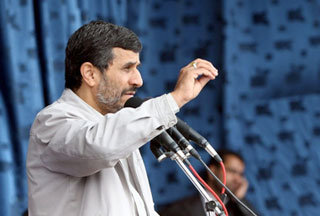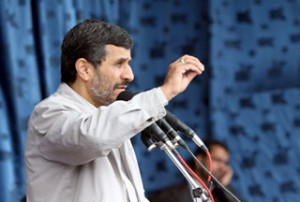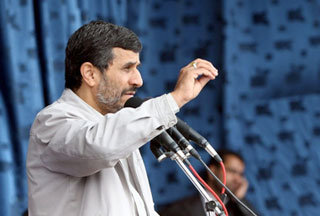 Iranian President Mahmoud Ahmadinejad has lashed out at the new US nuclear policy that excludes Iran from the list of non-atomic states that the use of nukes against is banned.
The 50-page "Nuclear Posture Review" (NPR) by the administration of US president Barack Obama which was released on Tuesday, purportedly restricts the use of US nuclear arms against some non-nuclear countries.
In response to the new US nuclear strategy, President Ahmadinejad on Wednesday lambasted the plan and advised his US counterpart not to repeat the "past mistakes" of the previous US governments.
"I advise Mr. Obama to be careful. If he tries to follow in the footsteps of Mr. [George W.] Bush, the response of the nations will be the same crushing response they gave to Bush," President Ahmadinejad said in a speech to a crowd in the northwestern city of Orumiyeh.
"We don't want Mr. Obama to suffer the same fate as Bush did. He must watch his behaviors and remarks," he added.
President Ahmadinejad said that the new nuclear strategy, which he claimed was adopted under pressure from Israeli lobby groups and capitalists, was in direct contradiction to Obama's oft-stated policy of change.
"Obama a few months ago said openly at the UN that he has come [to power] with the slogan of change and that he did not want to repeat the mistakes committed by previous US governments … But his yesterday (Tuesday) remarks contradict this slogan."
The new NPR by the Obama Administration restricts the use of US nuclear arms against some non-nuclear countries. Countries that 'from the US perspective' do not comply with non-proliferation treaties will be at risk of a possible nuclear attack.
The US has repeatedly accused Iran of failing to meet its obligations defined in the Nuclear Non-proliferation Treaty (NPT) — an allegation categorically denied by Tehran.
Iran was among the original countries that signed the NPT, a global pact aimed at curbing the spread of nuclear weapons across the globe.
Tehran's nuclear work is monitored by the UN nuclear watchdog and is conducted in accordance with the NPT.