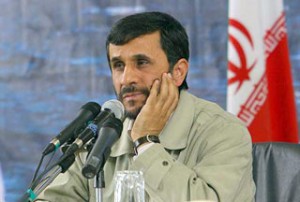 President Mahmoud Ahmadinejad has defended his revolutionary plan to redistribute subsidies and restructure the economy at the Iranian parliament.
Ahmadinejad, who was at Iran's Parliament (Majlis) to defend is choice of ministers for education, welfare and energy, said during the past 30 years the Islamic Republic has faced two main obstacles, one of which was the subsidy system.
"We all stood together to rise above the hurdles imposed on us from outside our borders. And today, we must stand together to defeat the internal obstacle… subsidies are our main economic challenge," he told the lawmakers on Sunday morning.
Ahmadinejad's subsidy bill, which still awaits parliamentary approval, is part of an overall plan to reshape the Iranian economy.
The bill aims to lift subsidies that the government has placed on key consumer goods such as fuel and bread and redirect the allocated funds to poorer sectors of the society.
During his Sunday address, the president also pointed to the threats made against Iran's national security as the other hurdle that the system had overcome in the past three decades and said those who once threatened Iran were now "desperate and bewildered."
"During the past 30 years we have lived under a dark cloud of threats… but today no powers dares to threaten the Iranian nation," said Ahmadinejad, pointing out that Iran's resistance and management in nuclear talks had opened a new pathway in countering threats from outside.
He also made an indirect reference to a recent decision by US President Barack Obama to extend US economic sanctions against Iran and said that the measure had been taken under pressure from "Israelis and certain European countries with a record of colonialism".
Ahmadinejad said Iran's success in nuclear negotiations with the West had angered Tel Aviv.