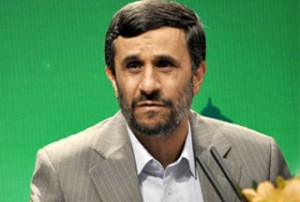 Amid speculations that Parliament may reject some proposed cabinet nominees, Iranian President Mahmoud Ahmadinejad defends the line-up of his future cabinet.
In a televised address to the nation on Thursday night, President Ahmadinejad defended the proposed line-up of his next cabinet, arguing that he had to change his cabinet because the conditions of the country have changed after the recent presidential election.
"In my opinion, the [recent] presidential election greatly raised the country's level of political and social awareness," he said.
"The election has changed the demands of the people. The conditions of the country have changed, so have the necessities. Therefore, new missions have emerged for the government."
The president went on to defend his picks as the most qualified for the positions.
"The incoming cabinet will be one step ahead of the previous one, which itself was way ahead of its predecessors in terms of the compatibility of [the ministers'] expertise with posts."
President Ahmadinejad submitted to the Parliament the final list of his picks for the next cabinet on Wednesday. Parliament members will examine the list from August 23 before they hold a confidence vote on August 30.
The list of the 21 ministers sees 11 new ministers, a move interpreted as in line with President Ahmadinejad's earlier promise to bring about major changes in the new cabinet.
Before the release of the proposed cabinet list by president Ahmadinejad, some Iranian lawmakers criticized him for refusing to consult with them over the line-up.
In a warning to the president, Parliament Vice-Speaker Mohammad-Reza Bahonar said on Thursday that some of the proposed ministers might fail to win the vote of confidence from Parliament.
"Some of my colleagues and I believe that about five of the ministers proposed by President Ahmadinejad will not win the vote of confidence from the Parliament."
During his first term in office, President Ahmadinejad was repeatedly criticized for frequently reshuffling the cabinet, and making 'too many' changes in the cabinet.
Mahmoud Ahmadinejad was declared the winner of the hotly-disputed June 12 presidential election with two-thirds of the votes and was sworn in on August 5 for a second four-year term in office.