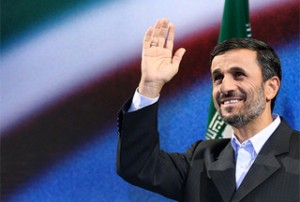 President Mahmoud Ahmadinejad on Saturday shared Iran's vision of creating a world free of nuclear weapons by adopting steps toward global nuclear disarmament.
"All countries should be disarmed of atomic weapons. Iran will strongly push ahead with its demand for global nuclear disarmament," the Islamic Republic News Agency (IRNA) quoted Ahmadinejad as saying.
He said that the atomic powers which have used nuclear weapons against other nations must be held accountable for their action.
He pointed to Iran's firm stance on defending its nuclear rights and said, "The government assures the Leader of the Islamic Revolution [Ayatollah Seyyed Ali Khamenei] and the Iranian nation that it will never back down even one step from its nuclear rights."
The president underlined that arrogant powers are unable to affect international developments.
"Iran will move toward its development and will play a strong role in global equations," he said.
He said that imposing unilateral sanctions against Iran is a clear example of extremism by the world powers and added, "They mistakenly think that pressure and threats will bring Iranians to their knees."
The United States and Israel accuse the Islamic Republic of pursuing military objectives in its nuclear pursuit.
Iran, a signatory to the nuclear Non-Proliferation Treaty (NPT) and member of the UN nuclear watchdog, is entitled to pursue the technology for civilian purposes. It has also urged nuclear powers to abandon their atomic arsenals as the government in Iran believes the use of weapons of mass destruction is inhuman.
In his remarks, Ahmadinejad said the United States should answer to the world over dropping nuclear bombs on Japan in World War II. He added that the US must also be held accountable for its use of depleted uranium in Iraq.