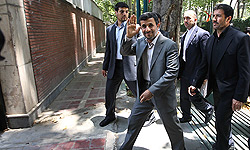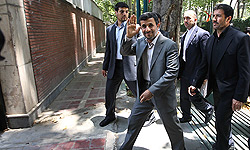 Iranian President Mahmoud Ahmadinejad is scheduled to visit Yerevan, the capital city of Armenia, on Friday to meet his counterpart Serzh Sargsyan and other high-ranking Armenian officials.
The two sides will discuss various political and economic issues during the visit.
Ahmadinejad was scheduled to pay a one-day trip to Armenia on June 6, 2011 to reciprocate his Armenian counterpart's previous visit. The trip was later canceled, according to Iran's Presidential Office, after a mutual agreement by Tehran and Yerevan.
Spokesman of Iran's Foreign Ministry Ramin Mehman-Parast announced at the time that the trip had been delayed as more time was needed to draw up and finalize relevant documents for the contracts were to be signed.
Ahmadinejad's last visit to Armenia occurred on October 22, 2007, in which he was accompanied by a high-ranking delegation. During the two-day visit, Iran and Armenia signed four memoranda of understanding and issued a joint statement.
Earlier, Ahmadinejad had asked for the maximum expansion of relations between Iran and Armenia.
Speaking in a phone conversation with his Armenian counterpart last month, the Iranian president reiterated the abundant grounds existing for the further development of ties and cooperation between Tehran and Yerevan.
"The Islamic Republic of Iran welcomes maximum expansion of relations between the two countries, in various cultural , economic and political grounds and welcomes any move which helps attainment of this objective," he added.