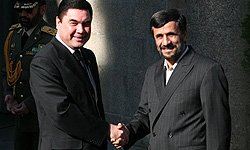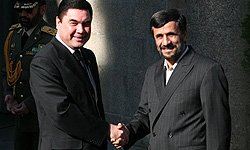 Iranian President Mahmoud Ahmadinejad gifted an Iran-made two-seater airplane to Turkmen President Gurbanguly Berdimuhammadov who is in Tehran to attend the International Nowrouz Celebrations.
The LSA airplane costs $130,000 and it was presented to Berdimuhammadov on Sunday after his arrival at Tehran Airport.
Last week, Berdimuhammadov sent thousand tons of flour as a present to Iran on the occasion of Nowrouz holiday.
The presidents of Afghanistan, Iraq and Tajikistan arrived in the Iranian capital city on Saturday and the presidents of Turkmenistan and Armenia on Sunday to take part in the International Nowrouz Celebrations in Tehran.
Those who arrived on Saturday held separate meetings with President Mahmoud Ahmadinejad yesterday.
Iran first organized the International Nowrouz Celebrations after the International Day of Nowrouz was registered on the UNESCO List of the Intangible Cultural Heritage of Humanity on February 23, 2010.
Nowrouz, which coincides with the first day of spring on the solar calendar, is mostly celebrated in Iran, Afghanistan, Azerbaijan, India, Kyrgyzstan, Tajikistan, Pakistan, Turkey and Uzbekistan.