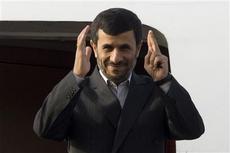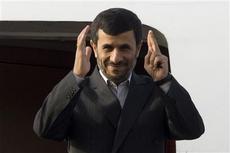 In a first visit of its kind by an Iranian president since 1979 Islamic revolution, Mahmoud Ahmadinejad had left Tehran on Tuesday to Egypt hoping to improve bilateral ties.
In an interview on Monday with Lebanese channel Al-Mayadeen, Ahmadinejad said that the Israeli attack in Syria is the result of Zionist "weakness." He voiced his aspirations to visit the Gaza Strip and pray in Al-Quds (Jerusalem), adding that there is no separation between Palestinian factions for Iran, and that Palestinian Authority President Mahmoud Abbas is "always welcome" in Tehran.
The Iranian president stated that Iran is always ready to assist the Palestinian people.
He also reiterated his country's position on the Syria crisis, stressing the solution of the Syrian crisis and the fate of President Bashar Al-Assad should be decided by the Syrian people.
During his three-day visit, Ahmadinejad will attend an Organization of Islamic Cooperation conference in Cairo as well as meet with Egyptian officials and politicians, the official IRNA news agency reported.
"I will try to pave the ground for developing cooperation between Iran and Egypt," Ahmadinejad told reporters before leaving Tehran. Without elaborating, he said the visit would "definitely influence the bilateral ties" between Tehran and Cairo. "If Tehran and Cairo see more eye to eye on regional and international issues, many (issues) will change," Ahmadinejad was quoted by IRNA as saying.