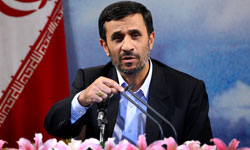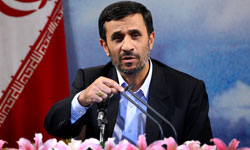 Iranian nation has currently become more powerful than ever in its history and would give a crushing response to its greedy and deceitful enemies, President Mahmoud Ahmadinejad said on Thursday.
Addressing graduated cadets at the Police Academy, the president said that the world powers were angry with the Iranian nation for their unity and vigilance.
Noting that enemies of the nation have constantly targeted Iran's lasting security, President Ahmadinejad was quoted by the Islamic republic news agency as saying, Iran's police and security forces "are always with the people, serving the people and kind to them.
However, stressed the president that Iran's security and police forces would "act like the nation's iron fist" against aggressors and those trying to damage national security and civil rights.
President Ahmadinejad urged those powers that were interfering in Iran's internal affairs to "learn from their failed attempts in Iran" and notice that the only way "to enter the circle of Iranians friendship is to respect them and act based on justice and moral values."