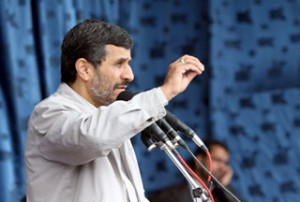 Iranian President Mahmoud Ahmadinejad has expressed Tehran's readiness for a nuclear fuel swap with the Western side without preconditions.
"Although we are capable of producing 20-percent-enriched uranium, we still can exchange fuel with no preconditions," the Islamic Republic News Agency (IRNA) quoted Ahmadinejad as saying in an exclusive interview with German television network RTL.
"If Iran is not provided with uranium enriched to a level of 20 percent, we will produce it on our own," he added.
Ahmadinejad stressed that Iran would not be influenced by other countries on the nuclear issue.
"Iran does not need countries which exercise pressure on us," he said.
A nuclear draft deal, first proposed by the US and then backed by the UN nuclear watchdog, requires Tehran to send most of its low-enriched uranium abroad for further processing to be formed in special rods for the research reactor.
Iran says it would agree to the proposal if guarantees are provided by the West that the fuel would be shipped to the country in a timely manner, but such demand has been shrugged off by the other side which is infamous for refusing to fulfill its commitments in the past.
Iran is currently enriching uranium to the level of less than 20 percent and the country's nuclear chief says the special plates for the fuel will be manufactured in the next few months.
The Iranian president played down threats on fresh sanctions against the country, saying, "Sanctions will hold no weight over Iran's nuclear progress."
He reiterated that Iran's nuclear program is solely for civilian purposes and said, "We are in principle against atomic bombs. For us, weapons of mass destruction are inhumane and we do not need them [weapons]."
Ahmadinejad reacted to certain Western politicians claiming that the Islamic Republic seeks to produce atomic bombs, saying, "They, themselves, have tens of thousands of nuclear bombs in their nuclear warehouse."
"If you are concerned about atomic bombs, go to Britons, the French and US atomic bases in Germany."
The West accuses Iran of having the intention to develop nuclear weapons.
Based on the allegation, Washington has been pushing to impose a fourth round of United Nations Security Council sanctions against Iran.
This is while inspectors of the UN International Atomic Energy Agency (IAEA), who has conducted the largest amount of inspection in the history of the body on Iran's nuclear program, have not found anything to verify that claim.