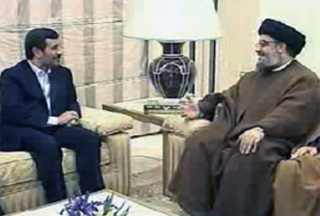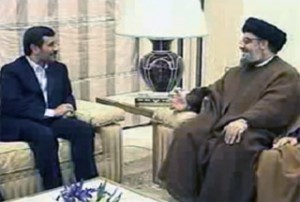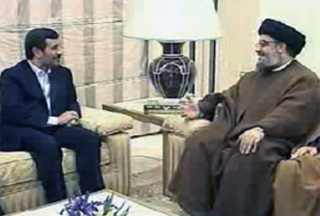 Iranian President Mahmoud Ahmadinejad calls on regional nations to remain vigilant against oppressive powers, saying that the Israeli regime will collapse if it repeats its previous mistakes.
"The recent threats by the Zionist regime [Israel] show the weakness of its officials. As time goes by, the resistance powers and free and independent nations near victory while the oppressive system is declining," Ahmadinejad said in a meeting with Hezbollah Secretary General Seyyed Hassan Nasrallah in the Syrian capital of Damascus.
The Iranian president stressed the importance of strengthening national unity in Palestine.
Ahmadinejad and Nasrallah exchanged views on the latest developments in the Middle East, the role of resistance forces in the region and the Israeli threat against both Lebanon and Syria.
Nasrallah said resistance forces are closely monitoring regional developments and are ready to counter all threats by the Zionist regime.
He added that resistance movements would give a crushing response to any possible Israeli attack.
Nasrallah has recently warned that the movement will strike Israeli infrastructure including the Ben Gurion International airport in Tel Aviv in the event of any Israeli attack on Lebanon.
"If you hit Rafiq al-Hariri international airport in Beirut, we will hit Ben-Gurion airport in Tel Aviv," he said. "If you hit our ports, we will bomb your ports, and if you hit our oil refineries, we will bomb your oil refineries."