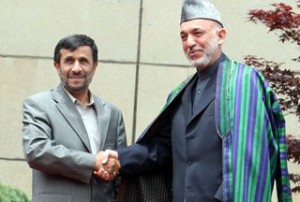 An Iranian diplomat in Kabul said Monday President Mahmoud Ahmadinejad would head a high-ranking delegation to Afghanistan on Wednesday, rejecting reports of delays in his visit.
Afghan sources in the presidential office had earlier claimed that Ahmadinejad had postponed his visit, which, they said, had been originally scheduled for Monday.
The Iranian source, however, told Press TV that Tehran had announced that the visit would take place during the week, without specifying that a day had been picked by the president.
The diplomat also rejected reports that the visit's itinerary had been influenced by US Secretary of Defense Robert Gates' visit to Kabul.
The visit will mark Ahmadinejad's first official visit to the country since the re-election of Hamid Karzai as president.