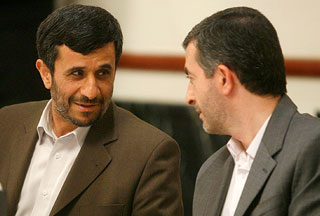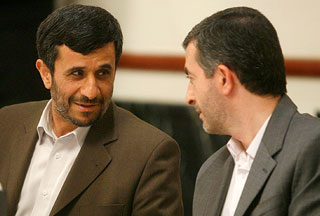 The Iranian president has stressed that Esfandyar Rahim-Masha'i will not quit his post as vice-president despite widespread calls for his resignation.
"[Rahim-Masha'i] has been appointed as the first vice president and will continue his job," Ahmadinejad said on Tuesday.
The appointment of Rahim-Masha'i on Friday sparked widespread criticism by Ahmadinejad's supporters and opponents alike.
The former head of Iran's Cultural Heritage, Handicrafts and Tourism Organization sparked outrage last year when he said Iran is a 'friend of the Israeli people'. He later detached himself from his earlier stance, saying that his comments had been misinterpreted.
"His authority as the first vice president is less than that he had in his previous post," Ahmadinejad said.
The Majlis clerical faction — which had called for the resignation of Rahim-Masha'i last year — said on Monday that should Ahmadinejad insist on having him as his deputy, the lawmakers would be left with no choice but to take the matter to the Leader of the Islamic Revolution, Ayatollah Seyyed Ali Khamenei.
Separately, Rahim-Masha'i explained his remarks from a different perspective.
"What I said had nothing to do with the Israeli regime. I did not talk about the usurper Zionist regime. My remarks were about the people of the occupied lands and were in fact a psychological warfare against the Israeli regime," he said.