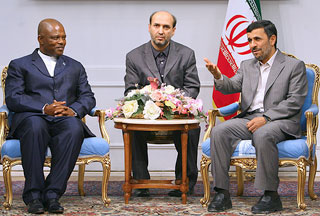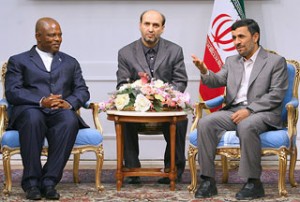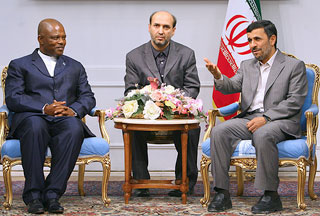 Iranian President Mahmoud Ahmadinejad met Congolese Parliament Speaker Evariste Boshab in Tehran on Monday.
During the meeting, Ahmadinejad stated that independent nations must forge closer ties to counter the designs of the hegemonistic powers.
The Iranian president said he believes that strengthening multilateral relations is the best strategy for independent countries to adopt to resist the pressure of the world's domineering powers.
The domineering powers use every means at their disposal, including economic sanctions and wars, to impede independent nations' progress, he added.
He went on to say that imperialism and capitalism are doomed to failure.
Iran and the Democratic Republic of Congo should hinder the oppressive powers' efforts to impose their will on nations, Ahmadinejad said.
The Iranian president also welcomed the expansion of relations with Congo.
In response, the Congolese parliament speaker said Congo is also eager to expand its relations with Iran.
Congo is seeking to strengthen ties with Iran as part of its efforts to resist "injustice and pressure," Boshab added.