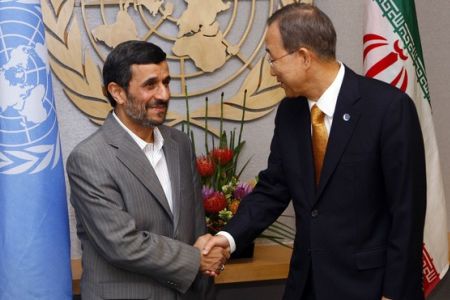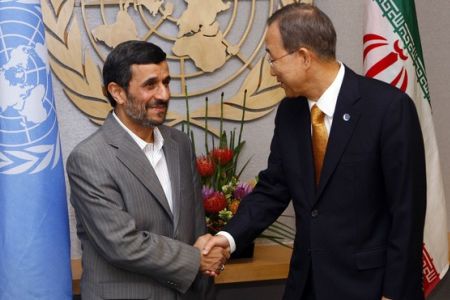 Iranian President Mahmoud Ahmadinejad has met with UN Secretary General Ban Ki-moon in New York to discuss global and regional issues.
The two officials discussed global peace and security during Sunday's meeting, the president's official website reported.
The UN chief called for a "mutually acceptable agreement" in resolving the standoff between Western powers and Iran over Tehran's nuclear program."
Ban "hoped that Iran will engage constructively in negotiations with the E3+3 allowing a mutually acceptable agreement in conformity with relevant Security Council resolutions," a statement from the world body said.
Also known as the P5+1, the E3+3 is comprised of the UK, the US, China, France, Germany and Russia.
Earlier, President Ahmadinejad told reporters upon arrival in New York City that "the UN is the world's central management body," it should allow all nations to play an active role in global issues.
Later, in an interview with ABC, Ahmadinejad criticized International Atomic Energy Agency (IAEA) inspectors for acting against their regulations by contributing to "unreal" reports.
However, the Iranian chief executive underlined that despite IAEA's conduct, Tehran will continue to respect the UN body's guidelines.