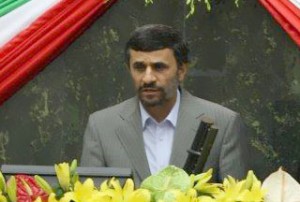 Iran's President Mahmoud Ahmadinejad has sent a strong message to the West, saying he is not awaiting their messages of recognition or congratulation.
Ahmadinejad, who was declared winner in Iran's June 12 elections with two-thirds of the vote, on Wednesday took the oath of office at the country's Parliament in downtown Tehran.
"I, as the president of the Islamic Republic of Iran, swear before the holy Quran and the Iranian nation and God to be the guardian of the official religion, the Islamic Republic and the Constitution," he said during the ceremony.
In his first address during his second term, the president struck a defiant tone at 'oppressive powers' who seek to deal with the Iranian nation through 'interference and foul language'.
"We will resist oppressors and try to correct the global discriminatory mechanisms in order to benefit all the nations of the world," he said.
Ahmadinejad also took a swipe at western powers, including the United States, France and Germany, for their refusal to congratulate him on his reelection.
"We heard that some of the Western leaders had decided to recognize but not congratulate the new government … Well, no one in Iran is waiting for your messages," he said. "Iranians will neither value your scowling and bullying nor will they pay attention to your smiles and greetings."
The ceremony was attended by 244 of Iran's 290 lawmakers, as the Reformist faction of the Iranian Parliament had boycotted the ceremony, Parlemannews reported.
The official website of the faction added that from its 70 members only 13 had taken their seats at the Majlis, while a number also walked out as the president began his address to the parliament.
Other notable figures not present at the ceremony were former president Mohammad Khatami, the head of the Expediency Council Ayatollah Ali Akbar Hashemi-Rafsanjani and Ayatollah Mohammad-Reza Mahdavi Kani, a member of the powerful Assembly of Experts.
Defeated presidential candidates, Mohsen Rezai, Mehdi Karroubi and Mir Hossein Mousavi were also absent.