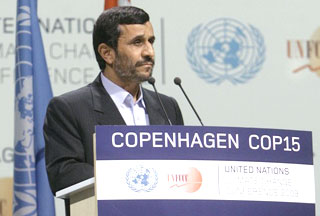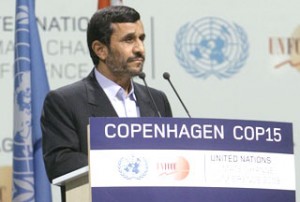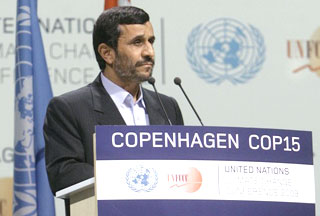 Iran's President Mahmoud Ahmadinejad says his US counterpart Barack Obama talks of change but in reality is 'going down the same road' as his predecessor, George W. Bush.
More than a week after Obama defended US wars in Afghanistan and Iraq in accepting his Nobel Peace Prize in Oslo, Ahmadinejad said Obama's oft-stated claims of change increasingly seem to be "just talk and nothing more."
"So far, Mr. Obama has only talked of bringing change to Washington, but US policies are not much different from before," said Ahmadinejad in a meeting with Greek Prime Minister George Papandreou on the sidelines of UN talks on climate change in Denmark.
"Washington's military presence in the region is the main reason behind the crises we see today in the Middle East, particularly those in Iraq, Afghanistan, Pakistan, and Palestine," noted the Iranian President.
Ahmadinejad said that the US military should have learned by now that foreign forces will not prevail in the Middle East and will eventually leave the region "dishonored and disgraced."
The world reacted with surprise to Obama's attempts to justify Washington's invasion of Afghanistan in 2001 and of Iraq in 2003, both of which have led to catastrophic consequences for Middle Easterners.
At the head of a high-ranking delegation, the Iranian President arrived in Denmark on Thursday to attend the UN Climate Change Conference (COP15) in Copenhagen.
In a keynote speech to the conference, Ahmadinejad cited capitalism and materialism as root causes for the current environment crisis affecting the whole world.
He also expressed full support for the Kyoto protocol and called on different countries to spare no expense with regards to cutting the anthropogenic greenhouse pollution in the atmosphere. "Our planet has suffered the worst of Greenhouse gas emission," he said.
After his speech, Ahmadinejad held in-depth talks with a number of world leaders, including Singaporean Prime Minister Lee Hsien Loong.
"There is some kind of a competition among some countries to consume natural resources across the globe. This has led to the environmental problems we see today," Ahmadinejad told Lee Hsien Loong.
Ahmadinejad also met his Turkish counterpart. Abdullah Gul, saying Iran and Turkey can make significant contributions to the international campaign against climate change.
At the end of the day, the Iranian president attended a dinner ceremony organized by Iranian expatriates in Denmark.