Iran
Ahmadinejad Orders AEOI to Speed up Nuclear Activities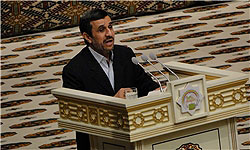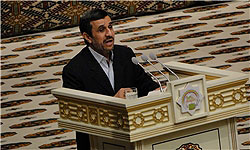 Iranian President Mahmoud Ahmadinejad appreciated the Atomic Energy Organization of Iran (AEOI)'s experts and directors for their giant efforts and progress, and ordered them to accelerate the country's nuclear activities.
"I want you to speed up activities," Ahmadinejad said, addressing the AEOI personnel in a ceremony held in Tehran on Tuesday to mark the 'National Day of the Nuclear Technology'.
He also blasted enemies for their attempts to prevent Iran's progress in the field of civilian nuclear technology, and said Iranians have resisted and acquired the nuclear technology, and now no one can take it away from the Iranian nation.
In April 2006, President Ahmadinejad announced that Iran had succeeded in completing the nuclear fuel production cycle at laboratory scale, which made Iran one of the world's 9 established nuclear states. Following the event, April 9 was named as the day of nuclear technology.
Washington and its Western allies accuse Iran of trying to develop nuclear weapons under the cover of a civilian nuclear program, while they have never presented any corroborative evidence to substantiate their allegations. Iran denies the charges and insists that its nuclear program is for peaceful purposes only.
Tehran stresses that the country has always pursued a civilian path to provide power to the growing number of Iranian population, whose fossil fuel would eventually run dry.
Despite the rules enshrined in the Non-Proliferation Treaty (NPT) entitling every member state, including Iran, to the right of uranium enrichment, Tehran is now under three rounds of UN Security Council sanctions for turning down West's illegitimate calls to give up its right of uranium enrichment.
Tehran has dismissed West's demands as politically tainted and illogical, stressing that sanctions and pressures merely consolidate Iranians' national resolve to continue the path.