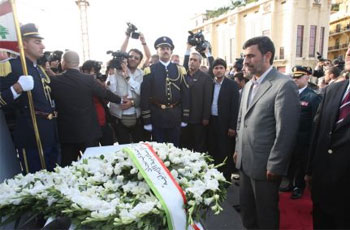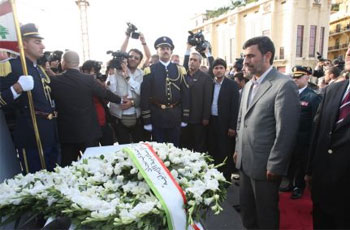 President Mahmoud Ahmadinejad on the first day of his visit to Lebanon attended Beirut Martyrs Square to pay tribute to the country's martyrs.
During the ceremony, the Iranian President placed wreaths of flower on the tombs of martyrs who dedicated the lives for independence of Lebanon.
Lebanese Defense Minister along with a number of country's officials accompanied President Ahmadinejad during the ceremony.
Iranian President gestured to the cheers of people who accorded enthusiastic welcome in the streets of Beirut.
President Ahmadinejad leading a high-ranking delegation arrived to cheers from crowds of adoring Lebanese people in this Arab nation for his first visit.
Later Wednesday evening, the Iranian President is scheduled to appear at a rally in the Hezbollah stronghold Dahiyeh, a southern Beirut suburb attacked by Israeli warplanes during the war in 2006. Dinner is to be spent with Prime Minister Saad Hariri.
Iran is expected to sign a $450 million loan agreement to fund Lebanese electricity and water projects, and some Lebanese officials say they expect President Ahmadinejad to help fund Lebanon's army.