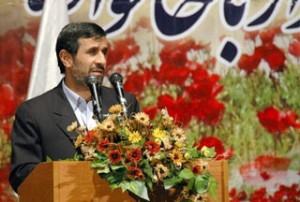 Iran's president says the Copenhagen climate change summit proved to the international community that world powers are not prepared to make any changes to save the planet.
"We should be sensitive about the climate because the warmer the earth gets the more floods there will be," Mahmoud Ahmadinejad said in a Wednesday night televised interview in the southern Iranian province of Fars.
"Air pollution kills up to 30 million people world wide. The summit was a test for the world's dominating economic powers. It showed that they only think of themselves. They are not prepared to cut pollutants for the sake of human life," he added.
The Iranian president pointed out that "consumerism and cultural problems" have caused the greatest degree of environmental pollution.
Ahmadinejad was one of the leaders that took part in last week's climate change summit in Copenhagen.
Many analysts believe that the summit was not a success as an agreement signed at the conference is not legally binding, and therefore not sufficient to combat the threat of global warming.
During his Wednesday interview, Ahmadinejad said world leaders who gathered at the summit did not manage to reach a proper deal because they were deadlocked in an argument with China over the appropriation of a mere 10 billion dollars.
"This is while the United States' military budget alone amounts to over 600 billion dollars and Washington has already spent a trillion dollars on the war in Iraq," he explained.
Ahmadinejad said that capitalism was at the end of its journey, and it is the Middle East that will determine international relations.
"The Middle East hosts all cultures and civilizations. It is the world's energy center and on the crossroads of the Orient and the Occident," he said.
"At the moment, Iran has the upper hand in the Middle East. And, who ever has the upper hand in the Middle East, has the upper hand in world affairs," he added.