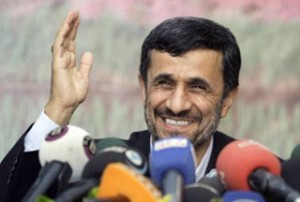 While embracing more talks over Iran's nuclear issue, President Mahmoud Ahmadinejad rejects threats as part of a continuing campaign of psychological warfare against Tehran.
In a televised speech Friday night, Iranian President Ahmadinejad said the West had launched a massive propaganda campaign against the country's civil nuclear program.
"Today, the only tool in the hands of [our] enemies is to wage a psychological war and raise the hue and cry; but they know well that threats will have no impact on the Iranian nation." he said, adding that "the resistance of the Iranian nation has repelled threats against Tehran" over its nuclear work and Iran is a key player in the international arena, whose positive role can by no means be overlooked.
At the same time, President Ahmadinejad reiterated his readiness to hold talks provided the country's rights were respected.
"The Iranian nation welcomes talks and interaction and presses any hand extended for cooperation. But if its dignity and rights are not respected, the nation will not give up its rights." he declared.
After Iranian Foreign Minister Manouchehr Mottaki said on Wednesday that Iran would not send its enriched uranium abroad due to lack of any guarantee over the return of the nuclear fuel to Iran , US President Barack Obama warned that consequences might follow should Tehran reject the IAEA-backed proposal which would provide fuel for its reactor. Obama added, however, that he would keep the door open for Iran to accept the proposal.
"Our expectations are that over the next several weeks we will be developing a package of potential steps that we could take that will indicate our seriousness to Iran."
The mid-October nuclear draft, discussed in Vienna, envisages Iran shipping out most of its low-enriched uranium (LEU) to be further enriched and returned to the country for the Tehran medical research reactor.
Iran has sought modifications to the draft deal, arguing that a guarantee for the return of the fuel is its major concern.
The US says no alteration will be made to the draft deal, insisting that Iran should accept it unchanged.
Replying to a question about Iran's refusal to send the country's low-enriched uranium (LEU) abroad, Iranian Foreign Minister Manouchehr Mottaki on Saturday questioned the motive behind West's insistence to take Iran's LEU out of the country.
"Why do they [Western countries] insist on taking our 3.5-percent-enriched uranium out of the country?" Mottaki told reporters in a press conference before his trip to the Philippines.
"Our 3.5-percent-enriched uranium is ready and their 20-percent-enriched uranium is ready, too. What's wrong with the simultaneous exchange of the fuel?" he added.