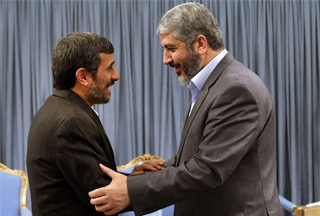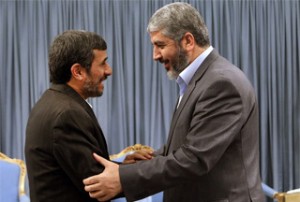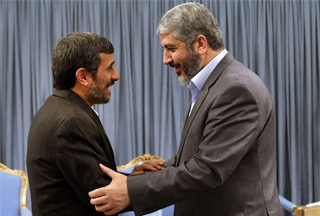 Iranian President Mahmoud Ahmadinejad said Sunday that neither the "vicious acts" of Israeli leaders nor the "puppet show" of American statesmen will help them survive.
In a meeting with the visiting Hamas political Bureau Chief Khaled Meshaal, Ahmadinejad said the recent setbacks Tel Aviv and Washington have suffered are the signs of the fall of the arrogant powers.
He mentioned Israel's military defeats in Lebanon and Gaza war and the failures in Iraq and Afghanistan by the US as the recent humiliations suffered by the two allies.
"Today Palestine is the symbol of the global front of freedom-seekers and resistance," the president was quoted as saying by Mehr news agency.
"The government and the people of Iran will always stand by the Palestinian resistance and the Palestinian people."
Meshaal said Palestinians will continue resistance against Israel until their land is liberated.