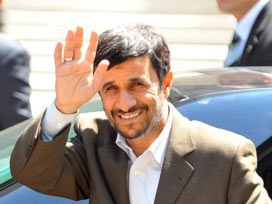 In what appears to be the start of a war of words with the French president, Iran's Mahmoud Ahmadinejad has said the people of France deserve better than their leaders.
On August 31, French President Nicolas Sarkozy said Iranians deserved better after Iran's 10th presidential election in June.
When asked to comment on the remarks, President Ahmadinejad, who is in New York to attend the UN General Assembly, said his French counterpart seems to be crossing the line with his statement.
"The French people deserve better than their current leaders," he told France 2 television when asked to comment on President Nicolas Sarkozy's recent remarks on Iran.
"Mr. Sarkozy is meddling in the internal affairs of our country. I too have a similar view," Ahmadinejad told France 2 television. "The French people deserve better than their current leaders."
Ahmadinejad also urged Paris to move to earn the release of a French academic, Clotilde Reiss, who is held in Iran on alleged charges of espionage and aiding a Western plot in the aftermath of the presidential election.
"Unfortunately, we have seen no action by the French government" in favor of the prisoner, Ahmadinejad said.
Reiss is on bail and staying in the French Embassy in Tehran and awaits a verdict after her appearance in a televised mass trial.
Ahmadinejad pointed to a number of Iranians being held in France and suggested that a prisoner swap could be arranged between Tehran and Paris for the release of Reiss.